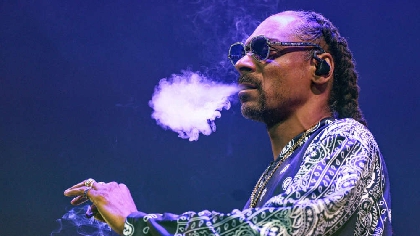 Hell has officially frozen over and no, the Toronto Maple Leafs haven't won the Stanley Cup. 
Instead, after decades of making it a staple of his persona, Snoop Dogg is dropping weed-smoking like it's hot.
"After much consideration & conversation with my family, I've decided to give up smoke," the rapper and entrepreneur posted on his social media accounts on Thursday.
"Please respect my privacy at this time."
The 52-year-old, whose real name is Calvin Broadus, did not specify what is all covered by "smoke", or give any further indication as to whether or not the statement was serious.
Some fans reacted with scepticism to Snoop Dogg's Thursday post about stepping away from weed, with one reply(opens in a new tab) to his post on X stating, "today isn't April Fools day Snoop."
Other fans speculated that the rapper could be making a shift to cannabis edibles only, while yet others applauded the move, with one reply stating(opens in a new tab) "we respect that Snoop, health comes first."
The person who may be affected most by this is Snoop's personal "blunt roller" whom he paid 'somewhere between $40,000 and $50,000 a year', along with perks like 'free weed' and 'all paid expenses'.
I'm giving up smoke. pic.twitter.com/DDVl9Syixw

— Snoop Dogg (@SnoopDogg) November 16, 2023